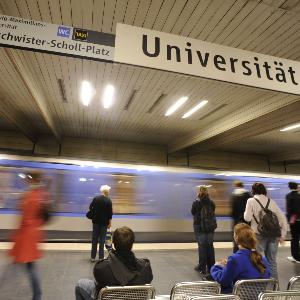 © picture alliance / Sueddeutsche Zeitung Photo | Hess, Catherina
Starting in the upcoming 2023/24 winter semester, the discounted Deutschlandticket means that you will be able to use the entire MVV public transportation network as well as regional transportation throughout Germany for just 29 euros per month — under the same conditions as the regular Deutschlandticket.
Initially, only the MVG will be selling the 29-euro ticket at the start of the winter semester here in Munich. You can pre-order your 29-euro ticket from the MVG from 10.08.2023 onwards. The ticket will then be valid from the start of the semester on 01.10.2023. To make sure that you are able to use the ticket in time for 01.10.2023, we recommend you pre-order as early as possible, as it may take a little time to get the eligibility check done.
To purchase the ticket online, you will need to upload your registration certificate for the winter semester 2023/24 as proof of your student status. You can generate the certificate yourself in our online portal. You can then order the ticket online from the MVG website.
Like the regular Deutschlandticket, the 29-euro ticket is available both as a mobile ticket via the MVG app on your phone and as a chip card. Since the chip cards are only available in limited quantities and lengthy delivery times are to be expected, we recommend choosing the mobile ticket. Unfortunately, currently, the MVV chip cards from any existing subscription you may have cannot be reused.
If you are currently using the regular Deutschlandticket, you must cancel it in time to switch to the 29-euro ticket; there is no automatic switch-over to the 29-euro ticket at the start of the semester. The cancellation deadline for the Deutschlandticket is the 10th of the previous month. Therefore, if you wish to cancel your Deutschlandticket with effect 30.09.2023, you must cancel it by 10.09.2023 with the provider from whom you purchased the Deutschlandticket.
If you have any questions, please contact the Studierendenwerk München Oberbayern by e-mail at [email protected].