Allotments, Munich's horse-drawn tramway and exclusive residential districts are only a few of the aspects investigated by Britta von Voithenberg. In her dissertation on "Rurbanity in the big city. Dresden and Munich from 1870 to 1914", she outlines how these rural structures actively shaped urban spaces. For the people alive at the time, "rurbanity" (combining the concepts of 'rural' and 'urban') was perfectly normal. However, research into modern cities has so far largely overlooked this aspect.

In the middle of Munich, on Winthirstraße in Neuhausen, people grew fruit and vegetables in their own gardens at the turn of the century.
© Archiv der Neuhauser Geschichtswerkstatt
In 1893, the first tramway in Munich was modelled on a carriage and pulled by a horse.
© MVG Archiv Nr. 300
The research associate at LMU's Historical Seminar won a prize endowed with 5,000 euros for her dissertation, which opens up new angles on a key phase in the history of the Bavarian capital. The University Prize of the City of Munich is presented in recognition of dissertations that concern themselves with urban planning, economic and/or cultural aspects of Munich. "It is great to have my academic work on re-exploring the urban history of Munich and Dresden recognized and honored in this way," von Voithenberg says. She is especially pleased that the local government sees the value of her work beyond its purely historic focus, and that the convergence of rural and urban spaces is gaining greater visibility. "Embedding more rustic, village-like features in big cities is definitely a topic that is very relevant to current debates around urban planning."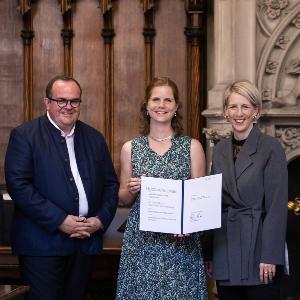 Britta von Voithenberg (2nd from right) received the University Prize of the City of Munich for her dissertation. | © Dominik Erl
Von Voithenberg is convinced that modern urban planning can indeed benefit from historical research into 'rurban' structures. "A more rural quality of life, better air quality and greater protection for the environment can be achieved in urban areas by drawing on expressions of 'rurbanity' that have been known for a long time," she says, adding that cities' agricultural legacy too can inspire modern urban planning. Creative ways to engage in new forms of agriculture in limited urban spaces are already in operation: Rooftop farming and urban chickening are both very popular, for example.

Conclusions of relevance to topical climate policy issues can likewise be drawn from the historian's research: Greening facades and erecting trellises was important in 1900; and in light of increasingly dense, polluted and overheated urban areas, it is all the more important today.