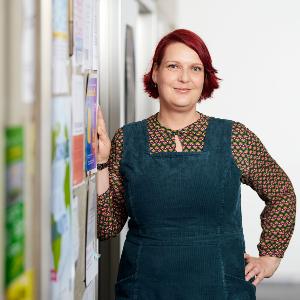 Professor Saskia Kersten. | © LMU/Stephan Höck
It is sometimes easier to learn several words at once than just a single one. This is one of the research findings arrived at by Saskia Kersten, Professor of Applied Linguistics and Media Didactics. "Language learners benefit from learning formulaic expressions," Kersten says. It is better to learn the phrase to make a mistake rather than just the word mistake, or the phrase my name is instead of just name in isolation, she explains.
Kersten conducts research and teaches at the Department of English and American Studies. She is also Head of the LMU Language Center and her work at the interface of English Language Teaching and applied linguistics chimes perfectly with her new position. Another area of her expertise is finding the best ways to teach and learn English using media – something that she also enjoys exploring with her students, many of whom want to become teachers.
Kersten works with them on real language corpora, for example. "At university level, using corpus linguistics – working with collections of authentic language data – is a common practice in my field but this has not yet filtered down to schools." In the near future, the professor plans to dig more deeply into the question of how corpus linguistic research can be put to good use in the context of school education.
Kersten's research also reveals an interest in how the English language is used in digital media. She has, for example, studied the names users give themselves on digital platforms and the strategies they use when doing so. For the expert linguist, developments in the language communicated in the digital arena are likewise always linked to the question of how they can be harnessed in the teaching of languages. She therefore keeps a very close eye on advances in artificial intelligence, ChatGPT and digital learning opportunities.