Legal analysis of egg donation, virtual microscopy, interdisciplinary approaches to climate change: On Good Teaching Day at LMU Munich on 14 July, prizes will be presented – as in the preceding years – for excellent research by students and innovative teaching by lecturers. The latter awards single out teaching staff who have shown exceptional dedication to tuition. The ten research prizes are worth 1,000 euros each, the ten LMU teaching innovation prizes 10,000 euros each.
The aim of Good Teaching Day is to stimulate university-wide debate around innovative teaching and connect teaching staff across the boundaries of different disciplines. The event is organized by Professor Oliver Jahraus, LMU Vice President for Teaching and Studies, in collaboration with the Study and Teaching Committee. Five research prizes and one teaching innovation prize will be donated by the Munich University Society. "I am looking forward to the exciting research and teaching projects for which we will once again be able to present prizes this year," Jahraus says. "The teaching formats and academic papers are extremely interesting. Many of them have an interdisciplinary design and add value for society at large. I therefore want to see lots of people following the example of both the students and teachers who win accolades."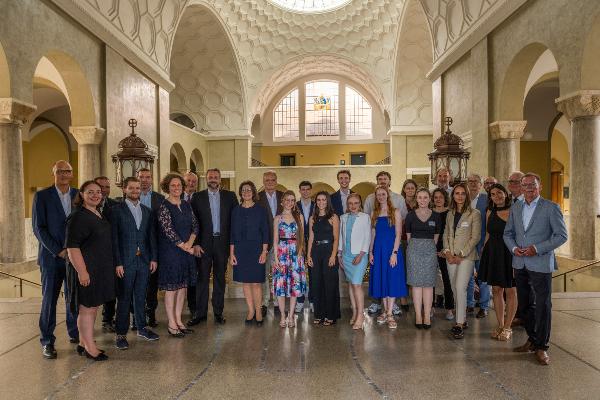 Good Teaching Day at LMU
15 award winners or teams receive prizes for innovative teaching and student research.
© LMU
LMU Teaching Innovation Prizes 2023
"Histologi@: Virtual tuition using (three-dimensional) microscopic specimens that can be focused to any depth"
Faculty of Medicine
Professor Christoph Schmitz, Professor Hans Georg Frank, Professor Stefan Milz, Dr. Katharina Sternecker
In the shape of "Histologi@", Chair II of LMU's Anatomical Institute has introduced an ultra-modern, digital mode of teaching microscopic anatomy (histology). Unlike traditional methods, where hundreds of specimens on glass slides are studied using simple optical microscopes, the new approach makes the specimens available as three-dimensional virtual slides. Virtual slides can be focused to any depth and at high resolution, going far beyond the capabilities of the standard microscopes used in regular courses. Made available free of charge via servers, these slides make teaching more flexible and allow students to decide for themselves whether to attend lectures in person or online.
"Introduction to Environment and Society"
Faculty of Languages and Literature
Professor Christof Mauch, Dr. Hanna Strass-Senol, Andreas Jünger
"Introduction to Environment and Society" – the introductory unit of the master's degree course of the same name at the Rachel Carson Center – not only has an interdisciplinary design, but also forges links between academia and real-world practice. For example, students visit non-university partners such as Umweltinstitut München e.V. (the Munich Institute of the Environment), an organic brewery, a satellite of the Bavarian Environment Agency and – with no shoes on! – the moors of Upper Bavaria. In addition, interdisciplinary experts representing the natural and social sciences are invited to participate, while important political discussions are engaged in with climate activists. Drawing on texts from a variety of disciplines, another focus is on finding a common language that enables discourse and dialogue to be maintained. Since the people attending this seminar come from different countries and cultures, it also accommodates varying cultural approaches to the topic.
Lecture on "Bioanaorganic Chemistry"
Faculty of Chemistry and Pharmacy
Professor Lena Daumann
In her lecture on "Bioanorganic Chemistry", Professor Lena Daumann uses minor methodological elements for the basics of chemistry and biochemistry to capture the imagination of students in the bachelor's degree courses for these disciplines. For example, students can devise their own exam questions in advance and collect points in academic communication projects. Insights gleaned from basic research can be linked to topics of relevance to society, and students' prior knowledge can be tested regularly in anonymous assessments. During lectures, the Socrative app is deployed to show the lecturer any gaps in the students' learning at an early stage. A mental health concept developed by Daumann herself addresses the needs of students in the wake of the coronavirus pandemic and is already an integral feature of lectures.
"Munich Climate (Law) School"
Faculty of Law, Faculty of Catholic Theology, Faculty of Social Sciences and Faculty of Geosciences
Professor Helmut Satzger, Professor Karen Pittel, Professor Julia Pongratz and Professor Markus Vogt
The Munich Climate (Law) School (MCS) has set itself the goal of understanding the challenges of climate change from the perspective of a raft of disciplines. It grew out of the dedicated efforts of a sizeable interdisciplinary team. Professor Helmut Satzger launched the one-week teaching event along the lines of an international summer school in 2021. Two such schools have been held to date. By bringing together a wide range of academic disciplines and approaches to research, the MCS familiarizes participants with different research perspectives and enables them to map out appropriate strategies to combat climate change. This interdisciplinary discourse is embodied in the form of a modern and sustainable educational concept. For example, video clips, question-and-answer sessions and simulations are used to actively involve the students and encourage forward thinking – above and beyond university life.
"Training in online and in-person teacher-parent meetings for trainee biology teachers with regular actors"
Joint project run by the Faculty of Biology and the Faculty of Medicine
Professor Birgit J. Neuhaus, Professor Bärbel Otto, Marius Eckert, Alexander Benz
The aim of the joint project "Training in online and in-person teacher-parent meetings for trainee biology teachers with regular actors" is to fill an important gap in the training provided to budding biology teachers. Similar to the mock-up encounters used to prepare medical students for doctor-patient consultations, this project provides concepts designed to optimize communication in meetings between teachers and parents. It also includes practical exercises to train these skills. In realistic simulations of this kind of encounter, students play the part of teachers while actors slip into the role of the parents. This form of communication training draws on a broad spectrum of methods. Once it has been introduced at the Faculty of Biology, there are plans to make the model transferable to other teacher training courses as well. Learning and doing practical exercises in communication strategies are a crucial element in enabling teachers to manage and resolve conflicts in their everyday work.
Students
Bachelor's/foundation course stage
"What is the impact of a Carbon Tax on Innovation? Suggestive Evidence from Sweden"
Faculty of Economics
Wolfgang Brezina, Daniel Bursian and Filip Milojevic
The empirical research of Wolfgang Brezina, Daniel Bursian and Filip Milojevic studies how a CO2 tax influences innovation. To be more precise, they have investigated the original correlation between implementation of a CO2 tax in Sweden in 1991 and the emergence of innovative technologies. The latter technologies seek to boost efficiency and attenuate CO2 intensity in energy-hungry branches of industry. As an indicator of the dependent variable 'innovation', the students used the number of patent applications in various sectors of the Swedish economy. They applied the synthetic control method, which requires an in-depth knowledge of statistics and is used in cases where it is difficult to find a comparable control group – for example to assess the impact of political measures. To do so, a synthetic control group was assembled on the basis of other countries that are similar to Sweden. The findings of the study show that introducing a CO2 tax led to an increase in innovation measured in terms of patent applications in energy-intensive industries such as the transport sector. This suggests that the tax also has an indirect impact – via the agency of technological change – on reducing CO2 emissions.
"Compensation for princes in the Weimar Republic – The legal arguments"
Faculty of History and the Arts
Sylvia Rose Burgess‐Tate
In the thesis for her bachelor's degree, Sylvia Burgess‐Tate investigated an important topic in the Weimar Republic: the legal debates surrounding the expropriation and compensation of German princes. Her in-depth paper looks at the changes in legal arguments and how they affect the attitudes of lawyers with respect to the democratic state. By conducting an intensive analysis of laws, regulations and both legal and judicial expert opinions on proprietary disputes, the author was able to give a proper treatment to neglected legal debates and, in so doing, provide fresh research stimulus. Burgess-Tate's work harbors huge potential for further projects that would permit a thorough investigation of legal arguments in compensation debates across individual nation states. Such an investigation would thus add depth and focus to ongoing debates around legal history.
"Investigating intracranial vasculature changes to monitor and predict brain pathologies"
Faculty of Psychology and Educational Sciences
Constanze Albrecht
The bachelor's thesis penned by Constanze Albrecht analyzes interaction between the skull bone, the cerebral membrane and the brain via very slender vascular channels. The hypothesis was that this interaction, modulated by the nature of the skull bone, could directly influence the nerve tissue. In close collaboration with the laboratory of Professor Ali Ertürk at Helmholtz Munich, Albrecht studied whether structural changes in the skull bone in mice allowed conclusions to be drawn about pathological changes to the nerve tissue. This opens up new possibilities for the early diagnosis of strokes and the evaluation of patients' rehabilitation potential. Albrecht showed that the density of the intracranial blood vessels in mice increased in the event of ischemic strokes compared to healthy mice, possibly pointing to an important compensation mechanism in response to strokes. Since the density of intracranial vessels can already be measured non-invasively in humans too, the author's findings could prompt the early diagnosis of strokes, thereby improving treatment options and reducing consequential damage. To complete her thesis, Albrecht combined data analytics approaches and machine learning applications with both neuroscientific methods and psychological research.
"Approximation Theory of Efficient Transformer Architectures"
Faculty of Mathematics, Informatics and Statistics
Silas Leon Alberti
This project focused on mathematical analysis of the approximation properties of what are known as transformers, an AI model architecture that also underpins major linguistic models such as ChatGPT. These transformers mark a recent development beyond classic artificial neural networks that was introduced specifically to process natural language. Mathematical analysis of this development is still in its very early stages. Silas Alberti was able to deduce a new kind of universal approximation theorem for transformers. In his approximation, highly complicated objects are approximated using simpler ones, the aim being to identify a minimum possible gap between the two. In addition, Alberti himself introduced a new kind of AI model architecture which he calls a "sumformer". He has thus made a significant and far-reaching contribution to a mathematical theory, a deeper understanding of transformers and, hence, to applications such as ChatGPT.
"Bulges at the back: The strange morphology of Peridinium aff. cinctum"
Faculty of Biology
Selin Gürkan
Dinoflagellates are single-celled algae that inhabit both fresh water and salt water. Most people know them as the culprit responsible for 'algal blooms', which, in the case of species containing toxins, lead to extensive bans on bathing in the affected waters. While it is therefore very important to study the species composition of dinoflagellate communities and understand their ecology, relevant taxonomic classification is still in its very early stages due to the considerable morphological variability that exists within single species. The objective of Selin Gürkan's work was to clarify the taxonomic status of certain strains of dinoflagellates based on optical and scanning electronic microscopic analysis of their morphology. Gürkan used cutting-edge microscopic and molecular biological techniques and made a crucial contribution to a publication in this field.
Master's/main course stage
"The ban on egg donation – Inordinate interference in a woman's right to self-determination?"
Faculty of Law
Daniela M. R. Lurz
Egg (or ovum) donations are prohibited and can be prosecuted under criminal law, although sperm can be donated without further ado. Why is the one act classed as "the misuse of reproductive techniques" while the other is deemed perfectly acceptable? This unequal treatment was what set Daniela M. R. Lurz thinking: She asked herself whether there is still a compelling legal case for this distinction today – and came to the conclusion that the ban on egg donations is rooted in obsolete assumptions, such that an amendment to the law is warranted. Her thesis has already been published in a legal journal.
"The Political Economy of Health Epidemics: Evidence from the Covid-19 Pandemic"
Faculty of Economics
Amelie Grosenick
Taking Italy as an example, this master's thesis examined whether certain aspects of national financial assistance during the pandemic genuinely benefited those municipalities that needed it most, or whether political considerations played a part in how funds were distributed. To this end, Amelie Grosenick collected and analyzed a large data set containing the figures for every municipality relating to the spread of the pandemic, the financial assistance provided, the socioeconomic structure and forthcoming elections. As a point of reference to assess the possible exercise of political influence, the author focused on the local government elections that were held in only some Italian municipalities in 2020, her base year. For the different forms of assistance provided, Grosenick arrived at varied results.
"The single-cell transcriptome atlas-led development of CAR-T cells to treat acute myelogenous leukemia"
Faculty of Medicine
Ruth Maria Grünmeier
To personalize the cellular immunotherapy of cancerous diseases, some of the patient's own immune cells are equipped with a synthetic, tumor-specific antigen receptor and reinfused into the patient. After genetic modification, the adapted immune cell – now referred to as a CAR-T cell – targets specific surface proteins on the tumor. The major challenge for the future is thus to find selective tumor markers that have as small an expression pattern as possible in healthy tissue. During Ruth Grünmeier's laboratory research and in collaboration with Helmholtz Munich, an innovative screening algorithm was developed. With the aid of this algorithm, Grünmeier and her colleagues were able to identify new, more suitable target structures for the treatment of leukemia. Her work focused on the experimental establishment and validation of the effectiveness of the new cell therapies. Alongside experiments to test the anti-tumorous effect, extensive experiments were also developed and performed to analyze side-effect profiles in immunocompetent organisms. A foundation was thus laid for further investigation into a host of cancerous diseases.
"Diagnosing cognitive-linguistic abilities: Development and testing of a German-language adaptation of the 'Brief Executive Language Screen'"
Faculty of Languages and Literature
Sarah Blöchinger
After a stroke or craniocerebral trauma, the executive system that harnesses mental processes to control communicative actions may be impaired. Up to now, however, there has been no evidence-based, psychometric method to diagnose this disorder in German-speaking Europe. In her master's thesis, clinical linguist Sarah Blöchinger adapted the English diagnostic method 'Brief Executive Language Screen' (BELS) for use in the German-speaking world. She independently conducted multiple tests with a representative group of sufferers and with a control group and presented a comprehensive evaluation of the findings. Her work thus forges a link between empirical and theoretical approaches. The diagnostic method she developed promises to critically improve the care situation for sufferers in everyday clinical practice in the future.
"Telecom-band single photon source with cavity-enhanced indistinguishability at room temperature "
Faculty of Physics
Julian Trapp
For his master's thesis, Julian Trapp developed a new source of non-classical light that emits individual, indistinguishable photons in the telecom wavelength band at room temperature. This development holds out the promise of ground-breaking quantum technology applications in fiber-based quantum communication and quantum cryptography. Precisely this kind of source is indispensable to scalable development of the quantum internet; and optimizing them in subsequent projects will enable further milestones to be reached along the path to optical fiber-based, low-loss quantum telecommunications. The findings won the 'Best Poster' prize in the category 'Semiconductor Physics' at the convention of the German Physical Society in Regensburg in September of last year.