Aleksandra Radosavljević, a graduate in German studies, is an expert in intercultural communication at PROFiL, the institution for staff qualification of teaching staff at LMU. As part of the diversity initiative Together@lmu, the communication expert is offering a workshop that is open to all interested employees at LMU.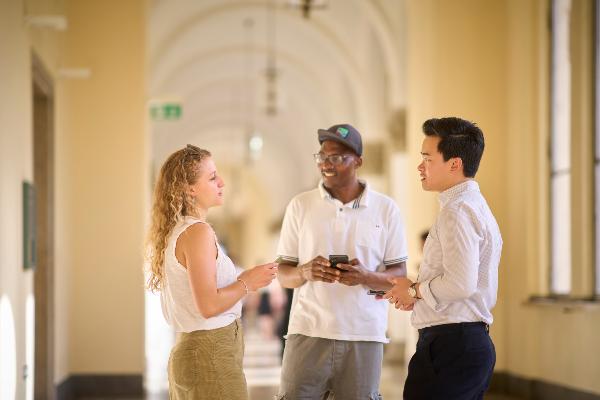 In personal interactions, we communicate on three levels: verbally, nonverbally and paraverbally.
© Jan Greune
What is important for intercultural communication to succeed?

Aleksandra Radosavljević: The first step is to come to terms with your own culture. First and foremost, it's not about knowing the exact background of the other person and understanding the culture of the other person - that's not always possible, especially in terms of depth and differentiation. It is much more important to reflect on one's own culture and to realize that what I take for granted may be completely unfamiliar to another person.

Punctuality, for example, is often an issue. There are countries with flexible time cultures where time arrangements are interpreted more generously. It helps to know this, for example, so that you don't take a guest's tardiness personally. In the second step, I can then ask myself, how do I deal with this? For example, how can I point out to a colleague or student who is always late that this bothers me and that I expect punctuality?
What we in Germany understand by critical thinking - questioning things, engaging in creative discussion and jointly deepening insights - does not exist in the same form in many cultures.
Aleksandra Radosavljević
Where do misunderstandings occur particularly frequently in intercultural communication - and how can they be avoided?

First of all, it is important to realize that we are all shaped differently and do not take the same things for granted. Take the example of a student who is supposed to give a presentation. If you put yourself in the role of the lecturer, it is helpful to first point out exactly what you expect from a paper, because the requirements for students are also different everywhere - possibly even within your own institute. The second step is about feedback, for example.
The way people give and take feedback is probably a frequent source of misunderstanding.
Diversity Initiative 2023
Read more
How criticism is expressed directly or indirectly, whether it's in front of others or just in private, varies all over the world - not only in different countries, by the way, but often also within a society. Even in our own culture, we are not all able to distinguish in the same way between objective criticism of the content of a paper, for example, and personal criticism of the speaker. I myself come from Serbia, and this was also unusual for me at the beginning: I gave a presentation, and afterwards there was a discussion about it. I first had to understand that the debate was not criticism, but rather that the topic had aroused interest among the participants. So it was a positive sign that a lively discussion followed.

In teaching situations, but also, for example, in meetings or before a staff appraisal, it is helpful for all those involved to formulate in advance in concrete terms what personal communication style one cultivates oneself, in what way one gives feedback - and also whether and how one would like to receive criticism oneself, if necessary. What we in Germany understand by critical thinking - questioning things, engaging in creative discussion and jointly deepening insights - does not exist in the same form in many cultures. This also has to do with different ways of dealing with authority and hierarchies. If this difference is transparent and clearly communicated, many misunderstandings can be avoided in advance.

As an expert in intercultural communication, do you observe that people in a globalized society have become more sensitive to cultural differences?

I've noticed that a lot has changed over the last twelve years, and in particular as a result of the Corona era. With the advent of smartphones and the increase in digital communication, we have many more opportunities than before to interact with people from other cultures. Even after graduation, there are now many opportunities for international orientation.

At the same time, I observe that there is a need to express oneself more and more concretely, especially in the digital realm, in order to avoid misunderstandings. In personal interactions, we communicate on three levels: verbally, i.e. literally, nonverbally, i.e. through posture, facial expressions and gestures, and paraverbally, through the voice.

In digital meetings, the nonverbal level, body language, is particularly lacking. How do we greet each other? How close do we stand to each other? How do we gesticulate? How do we look back and forth in the room, what subtext is conveyed? Proximity has been lost through digital communication, which often leads to ambiguity. Practicing transparent communication helps with this, too.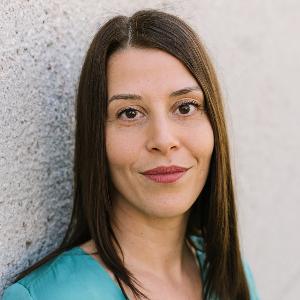 Aleksandra Radosavljević is an expert in intercultural communication | © Nicole Zausinger Fotografie
Workshop: Confident interaction in intercultural relations

On July 13 and 14, 2023, Aleksandra Radosavljević will offer a workshop for LMU employees. The main goal of the workshop is for participants to learn methods for dealing more confidently with linguistic and cultural differences, and to be able to practically apply their findings in everyday university life. There will be short impulse lectures, group work and elaboration of personal examples, which will sensitize for difficulties, but also opportunities in intercultural exchange.